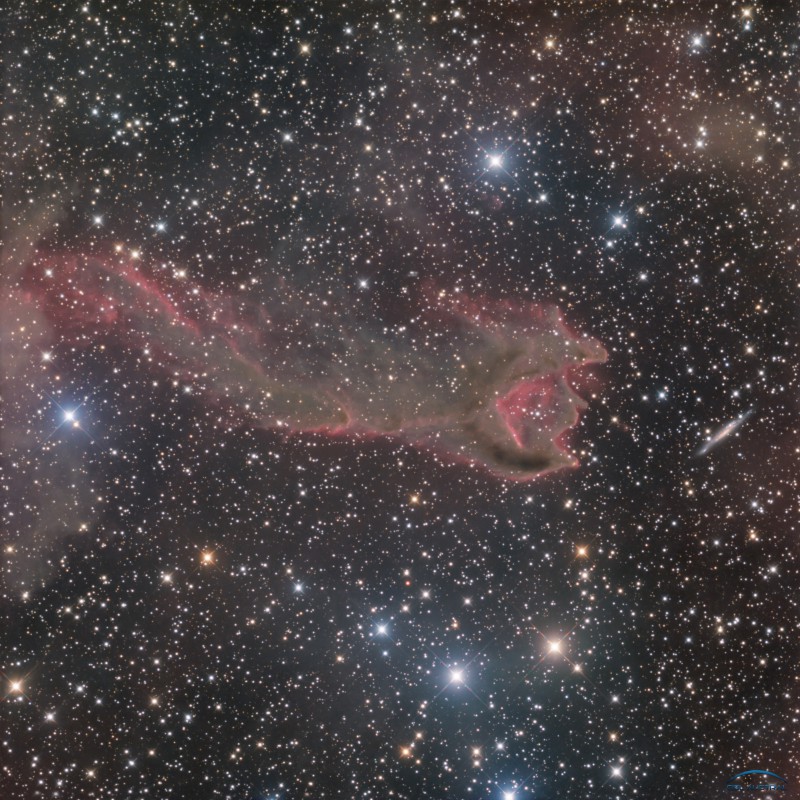 SOURCE WIKIPEDIA
CG 4, commonly referred to as God's Hand,[3] is a star-forming region located in the Puppis constellation, about 1,300 light-years (400 pc) from Earth.[4] It is one of several objects referred to as « cometary globules« , because its shape is similar to that of a comet.[1] It has a dense head formed of gas and dust,[1] which is around 1.5 ly (0.46 pc) in diameter,[3] and an elongated faint tail[1] around 8 ly (2.5 pc) in length.[3]
CG 4, and the nearby cometary globules, generally point away from the Vela Supernova Remnant, located at the center of the Gum Nebula.[5]
Discovery
In 1976, photographs from the UK Schmidt Telescope—operated by the Australian Astronomical Observatory—showed several objects resembling comets, located in the Gum Nebula,[1] an emission nebula of the constellation. Due to their particular shape, these objects came to be known as cometary globules.[1] Each globule has a dense, dark, ruptured head and a very long tail, with the latter pointing away from the Vela Supernova Remnant. As a part of the ESO Cosmic Gems program, the European Southern Observatory released an image of CG 4 in January 2015 showing the head of the nebula.[1]
Structure
The head of cometary globule CG 4 resembles a comet with a dusty cavernous mouth, as photographed by the European Southern Observatory's Very Large Telescope in 2015.[6] Composed of relatively dense, dark matter, it is an opaque structure that is being illuminated by the glow of a nearby star.[7] An obscure red glow limbing the globule is possibly caused by emission from ionized hydrogen. The mouth of the globule appears to be ready to consume the edge-on spiral galaxy ESO 257-19. In reality, the galaxy is over a hundred million light-years further away from the globule.[4]